Pool Cleaning Service Los Angeles – Highest Quality, Always Reliable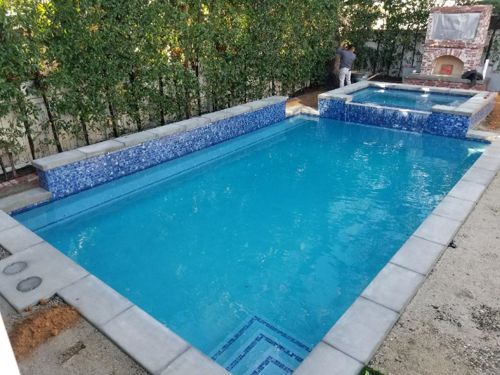 Are the chemicals at the right level? What do I do if algae starts appearing? How do I clean the filter?
Those are some of the most common questions pool owners ask themselves. Are you ready to get back to just enjoying your water without having to worry about maintaining it? We specialize in keeping your spa and pool clean and looking good all year round!
Specific maintenance includes the following:
Check and adjust chemicals accordingly
Skim surface
Vacuum
Empty pool and pump baskets
Check water levels
Brush walls
Clean tiles
Cartridge filter cleaning or backwashing
Equipment check
If you have any questions regarding our cleaning services, please don't hesitate to contact Crystal Pool Service Los Angeles – the most reliable pool cleaning service in Los Angeles and Ventura County.
Our cleaners, crew, and staff are trained to be reliable, professional, and always show up on time.
We strive to be the best local swimming pool cleaning company in LA.
Residential and commercial water and spa care.
One-time maintenance and cleanings are available upon request.
We would be happy to answer any questions you have.
Residential and Commercial Pool Cleaning
Tired of an unreliable pool guy? That's one of the top complaints among most spa and pool owners, whether residential or commercial. We understand that reliability is one of the most important aspects of a pool cleaning service. That's why we guarantee reliability and consistency to all our customers.
It is our goal that our consistency will set us apart from our competition, leaving you with peace of mind and satisfaction in knowing your water will always be crystal clear!
"Super quick turnaround time. Needed new pool service and they started literally the next day. Took time to understand my pool equipment, which isn't easy. "
– Pool Owner, Suraj G.
"Outstanding work from Crystal Pool Service. They were attentive to my needs and made the pool look great! "
– Pool Owner, Jared D.
Pool Cleaning Has Never
Been
Easier
We provide professional pool and spa maintenance and repairs
Our Pool Cleaning Service Area
We happily serve the following local areas: If you're not sure if we come to your area, please don't hesitate to contact us to find out!
Brentwood, Los Angeles
Calabasas
Camarillo
Culver City
Los Angeles
Los Feliz
Malibu
Manhattan Beach
Mar Vista
Marina del Rey
Newbury Park, Thousand Oaks
Oxnard
Palms, LA
Pasadena
Santa Monica
Silver Lake, LA
Studio City
Thousand Oaks
Ventura
West LA
Westwood, LA

Benefits of Using a Professional
With over 15 years of experience we have seen it all. You got a pool so you could enjoy it, not have more work to do.
Save time and money by avoiding costly 'emergency' call-outs and repairs
Know your pool is always chemically safe
Friendly service at an affordable rate
Save Time and Money
Having a professional regularly clean and maintain your water area has multiple benefits. One major benefit is that it allows us to identify any potential problems before they lead to costly repairs. These may include servicing equipment that could break if not maintained or cleaned properly.
No more emergency phone calls to a pool guy that doesn't know your system!
Stop Worrying About Chemical Levels
The list of possible chemicals needed is long and can include sanitizers, oxidizers, pH water balancers, algaecides, clarifiers, filter chemicals, and more. For some, it can make the head spin, but for us, it is what we do and we're good at it.
This is a great feature of our weekly pool cleaning package because we keep a tight eye on how the levels of chemical are doing. We do check this with our monthly pool cleaning service package, but owners may need to still keep an eye on the chemicals in between our visits.
We would be happy to answer any questions you may have regarding what chemicals are right for your water or our other pool cleaning services.
Friendly Service
Every good business prides itself on excellent customer satisfaction. We are no different and know that our customer's satisfaction rate is what will continue to set us apart from our competitors. As a family owned and operated business, our owner, Chris, is always available to answer any questions or concerns you may have regarding your pool care.
Competitve Rates & Highest Quality Work
Residential and Commercial Maintenance & Cleaning
Constant Quality On Every Single Visit
Free Filter Cleaning With All New Maintenance Pkg Sign-Ups
Serving LA and Ventura County since 2004
Step 1
Contact Us. Let us know what you are needing and where you are located.
Step 2
We communicate with you to determine an estimate and time frame.
Step 3
We arrive on time and give you the attention you deserve.
Step 4
Enjoy your water area all season long.