Swimming Pool Repair Service
There's no worse feeling than having a pool on a hot day, but not being able to enjoy relaxing and cooling off because there is something wrong that isn't working properly. We are a premier quality swimming pool repair service. We do repairs and troubleshooting throughout the Los Angeles and Ventura counties.
From Long Beach and Manhattan Beach to Malibu and Oxnard, we have more than 15 years experience repairing and fixing up commercial and residential water features. If it's broken, we can fix it!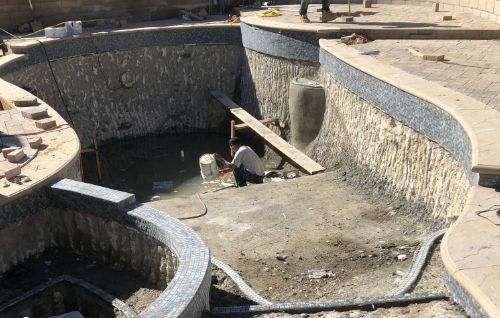 Pool Tile
Typically, the pool tile is installed so that the top 6″ of the gunite structure is finished with the tile. The water level  should be kept so that half of the tile is underwater. The purpose of the tile is to make it easier for you to clean and maintain your water area and avoid a water-line ring around the top of the swimming pool or spa.
Acid Wash
An acid wash is the purposeful stripping of a thin layer of plaster, to reveal a brighter, whiter, plaster beneath. This is a good option to remove stains left behind by algae, minerals or debris. 
Have A Different Problem?
Do you have a different problem, but you're not sure what it is? Or is your problem not listed above? That's no problem at all – we can fix or repair almost anything, and troubleshooting can be done in person or over the phone. When you contact us we'll ask you a few questions to find out more information. If we can't diagnose it over the phone, we'd be happy to come out and take a look.
Pool Repair Service Has Never
Been
Easier
We provide professional pool repairs, troubleshooting and more

Benefits of Using a Professional
With over 20 years of experience we have seen it all. You got a pool so you could enjoy it, not have more work to do.
Make a stunning statement with customized pool tilin
Quickly and easily get rid of unwanted stains with an acid wash
Not sure what the issue is and need an experience pool professional to come check things out? We can help.
Competitve Rates & Highest Quality Service
Residential and Commercial Spa & Pool Repair / Remodel
Constant Quality, No Matter What The Service
Serving LA and Ventura County Since 2004
Competitive Rates with all our repair services
We Keep Things Simple in California
Step 1
Contact Us. Let us know what services you are needing and where you are located.
Step 2
We communicate with you to determine an estimate and time frame.
Step 3
We arrive on time and give you the service you deserve.
Step 4
Enjoy your water area all season long.